ECube, founded by a team with deep corporate and operating experience, is an Environment, Social and Governance (ESG) focused platform. ECube's ESG Solutions supports investors and companies in their ESG journeys, helping develop business relevant ESG strategies and their deployment.
ECube is also developing distinct channels to accelerate the growth of ESG and Climate Change related investments in India, with innovative solutions for debt and equity.
"Engage and
Empower for ESG"
- the 3 Es have yielded ECube, our name, and summarize our Vision.
Our Mission is to
Transform the climate and ESG landscape in India.
The colors in our logo represent what we stand for
Green
For protecting the Environment
Brown
Indicating our concern for the Earth and our focus on Society
The logo represents our firm's rootedness in seeking inclusive and rapid growth in our drive towards profit with purpose, underlined by the core values of trust and integrity.
With 200 plus years of collective experience, the ECube team of industry veterans has deep senior level corporate and operating experience, and experience in engaging with boards and senior management.
With backgrounds in Sustainability, ESG ratings, Governance, Climate Change, Finance and Business, the team has the diversity of essential experience in areas that are relevant to business-centric ESG solutions. Members of the ECube team are also involved in ESG policy making at the highest levels.
For our clients, this translates into a combination of benefits
A deep understanding of the strategic value of ESG, and a holistic understanding of business opportunities and risks, translating into a business-oriented approach to ESG.
The wisdom and business judgment for financially meaningful, practical, and implementable ESG recommendations.
Knowledge and thought leadership.
Dr. Kiran Karnik
X
Co-Founder, ECube. First Brand Custodian of the Tata Group. Till 2018, Chief Ethics Officer and Chairman, Tata Global Sustainability Council. Earlier, led private equity at Tata Capital.
Events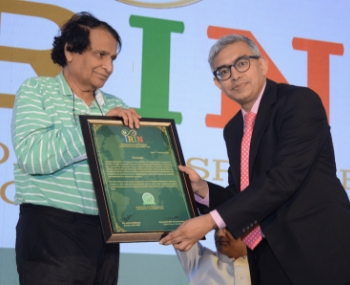 07 Mar 2020 / by ECube India
Govind accepting the citation on behalf of ECube awarded by Hon'ble Former Minister Railways and India's Sherp...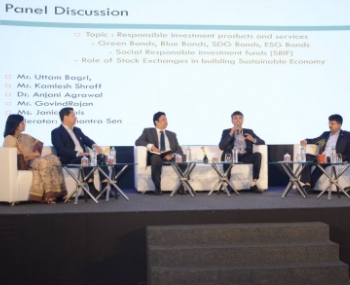 07 Mar 2020 / by ECube India
Govind at the first edition of the International Responsible Investors Network (IRIN) Summit 2020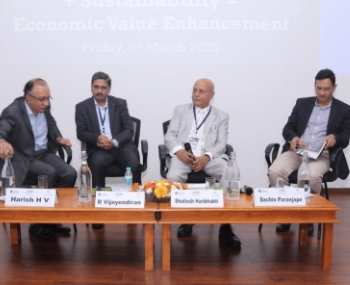 06 Mar 2020 / by ECube India
HV Harish during his panel discussion on the theme on "Corporate Governance + Sustainability = Economic Value ...
X
Co-Founder, ECube. First Brand Custodian of the Tata Group. Till 2018, Chief Ethics Officer and Chairman, Tata Global Sustainability Council. Earlier, led private equity at Tata Capital.
X
Co-Founder, ECube. Deep Indian and international management experience over 35 years. Non-Executive Director of a number of public and private companies in India, Europe and the US.
X
Co-Founder, ECube. Founding COO and CFO of Tata Capital. Served on letious Tata boards, and as Chief Operating Officer, Retail Business and Housing Finance at Tata Capital.
X
Until recently Partner, India Leadership Team at Grant Thornton. Over 31 years of experience in corporate finance and consulting.
X
Served till May 2019 as the India Country Manager of MSCI, an NYSE listed global firm which assists institutional investors across the world with tools and analysis.
X
Chairman of Oxfam India. Till 2017, Chief, Tata Sustainability Group. Spent over a decade advising companies on mainstreaming sustainability into their core business.
X
Till recently President (Foods) at Tata Consumer. Over 30 years consumer goods experience in strategy, marketing & operations. Served on Tata Unistore & Tata NourishCo boards
X
Ms Duggal was part of the Indian Administrative Service from 1981-2017. She served in letious ministries and departments of the Government of India including as the senior-most civil servant in the central Ministries of Corporate Affairs and Financial Services.
X
Kiran Karnik's career has combined roles in government, business and civil society. He is currently Chair of HelpAge India and Indraprastha Institute of Information Technology. He was earlier on the Board of the Reserve Bank of India, the Prime Minister's Scientific Advisory Council and the National Innovation Council.
X
Prof. Robins is Professor in Practice for Sustainable Finance at the Grantham Research Institute at the LSE. He is working on the transformations needed in both financial practice and financial policy to deliver the Paris Agreement and the Sustainable Development Goals. He was Special Adviser on Sustainable Finance for UN Environment (UNEP), from 2014 to 2018.
X
Sir Suma Chakrabarti was the sixth President of the European Bank for Reconstruction and Development (EBRD). Sir Suma served two terms as President, having been elected to the post by the EBRD's Board of Governors in 2012 and again in 2016. He currently serves as the Chairman of the Overseas Development Institute.
Contact us
Address
91 Springboard Business Hub Pvt. Ltd.
1st Floor & 2nd Floor, Kagalwala House, Plot No. 175, Behind Metro House CST Road, Kalina, Bandra Kurla Complex, Santacruz East, Mumbai- 4000988